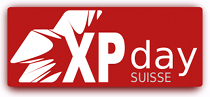 Portia Tung and Pascal Van Cauwenberghe will co-present the "Coaching with the Wizard of Oz" Agile Fairytale at the Swiss XP Day in Geneva on March 29th.
Apprenez les techniques de coaching avec le magicien d'Oz
Pour pouvoir aider les autres (et soi-même) avec du coaching il faut mettre en pratique quatre activités :
Poser les bonnes questions
Écouter ce qui est vraiment dit
Observer ce qui se passe vraiment
Donner le bon feedback au bon moment
Le coaching est simple, mais pas facile. Quelque soit votre rôle dans l'équipe, ces techniques seront utiles pour améliorer chaque jour. Apprenez quelques techniques de coaching et mettez-les en pratique. Les personnages du Magicien d'Oz vous aideront sur la longue route de brique jaune vers la cité d'Émeraude.